אנחנו גאים להיות שותפים של ClearML, השותפות מאפשרת לנו להציע כלי למידת מכונה העדכניים ביותר מה שמבטיח שהלקוחות שלנו יישארו בקדמת הטכנולגיה. ClearML היא פלטפורמת קוד פתוח המאפשרת אוטומציה ומפשטת פיתוח וניהול פתרונות למידת מכונה עבור צוותי מדעי נתונים. חבילת MLOps מקצה לקצה המאפשרת לך להתמקד בפיתוח קוד ה-ML. עם ClearML תוכלו לשפר ולייעל את יכולות למידת המכונה בארגון שלכם.
ClearML is a unified, open source platform for continuous machine learning (ML), trusted by forward-thinking Data Scientists, ML Engineers, DevOps, and decision makers at leadin g Fortune 500 companies, enterprises, academia, and innovative start-ups worldwide. ClearML enables customers to build continuous ML workflows — from experiment management and orchestration through data management and scheduling, followed by provisioning and serving — to achieve the fastest time to ML production, fastest time to value, and increased performance. In this way, ClearML accelerates ML adoption across business units, helping companie s reach their revenue potential and materialize their ML investments. With thousands of deployments and a vibrant, engaged community, ClearML is transforming the ML space — bridging software, machine learning, and automation.
הדברים שניתן לעשות עם ClearML
לעקוב ולנהל מודלים ומעקבים ב-2 שורות קוד
ליצור בוטים ששולחים לך הודעות Slack על סמך התנהגות הניסוי (לדוגמה, מתריעים בכל פעם שהמודל שלך משתפר ברמת הדיוק)
ניהול נתונים  אחסון, מעקב ובקרת גרסאות (version control)
ביצוע ניסוים מרחוק בכל משאב מחשוב שיש לך זמין עם

ClearML Agent

אופטימיזציה

של היפרפרמטרים (hyperparameter)
בניית

pipelines

מקוד
ועוד!
ClearML Covers All ML Components​ - מכסה את כל רכיבי ה-ML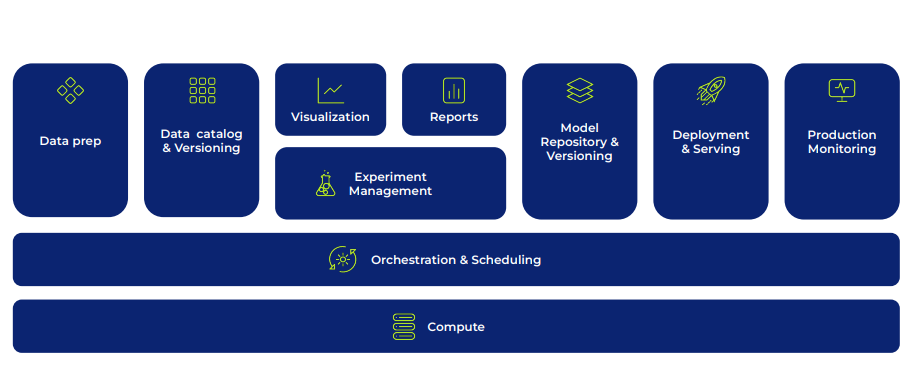 One End-to-End Platform - פלטפורמה אחת מקצה לקצה
ClearML's unified, end-to-end platform includes a best-of-breed experiment management module with scheduling and orchestration to maximize the efficiency of the development process. ClearML was purpose-built by data scientists and ML practitioners to bring CI/CD methodology to the ML space, fully automated by NVIDIA hardware. ClearML empowers ML teams to develop, manage, deploy, and monitor the complete ML lifecycle process from a single fully integrated platform – all with just two lines of code. With ClearML, customers significantly shorten their time-to-value and time-to-revenue, ensuring ML projects are executed successfully and make it to production efficiently. The open source platform can seamlessly integrate with any organization's existing infrastructure and tools, allowing companies and teams a fast, frictionless customer onboarding experience and workflow. Organizations can run ClearML on any infrastructure, whether it is cloud, virtual private cloud (VPC), or on premises.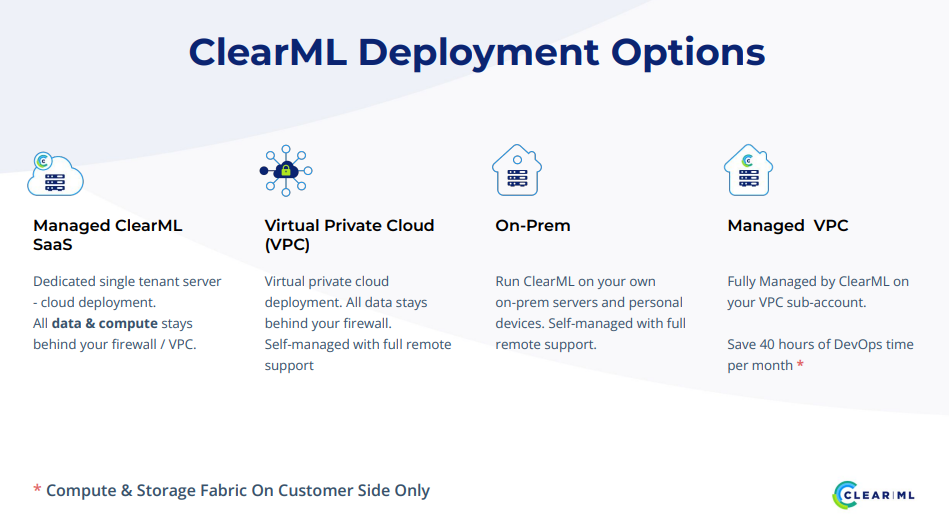 ClearML Enterprise - מהדורה ארגונית
בעוד שהקוד הפתוח של ClearML מספק פתרון מלא עבור צוותי מדעי נתונים ו-ML-Ops, המהדורה הארגונית מתבססת עליה עם תכונות משלימות כגון גירסאות ותמיכה משופרים של מערך נתונים וכן SLA מותאם לצרכים שלך.
השוואה מלאה בין המהדורת ניתן למצוא כאן
ClearML Enterprise Features
User Management & Permissions
Leverage built-in user management, authentication, and permission management, as well as integration to
your enterprise permissions management system. Fully supports SSO (Google, BitBucket, GitHub, Active
Directory/LDAP) and multi-site per user/group data permission layer with LDAP integration
Managed Services
Enjoy ClearML hassle-free – Save on dedicated DevOps and avoid painful or unpredictable operational costs
for upkeep and maintenance.
Dedicated Support and SLAs
Dedicated support channels and SLAs via email, phone, and chat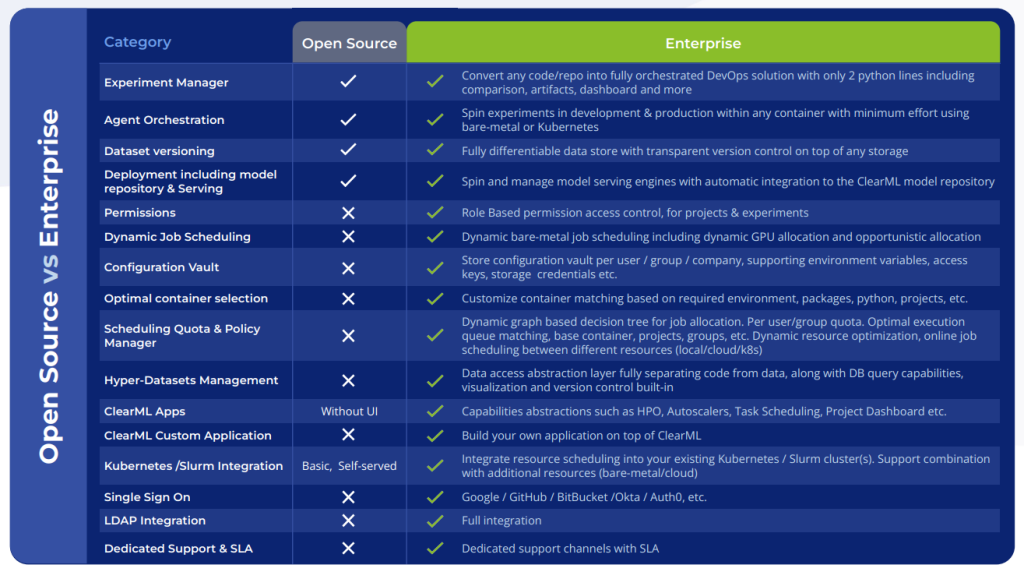 Enterprise-Grade Security
Access
SSO, full role-based access control and permissions for each user, audit paper trail on access
Governance
Traceability of models, including data code-base and environment.
Scalable Data
Out-of-the-box support for object storage and NFS/CIFS on-prem solutions.
In-Transit Encryption / Authentication
HTTPs / TLS on all data / access connection including JWT for fully traceable & authenticated API access & logs.